Jade Lucky Stones – Mysticism and Jade Luck Abound
Jade is an ornamental stone. The term jade is applied to two different rocks made up of different silicate minerals:
* Nephrite: Hardness 5.5 – 6.0 Mohs, a microcrystalline interlocking fibrous matrix of the calcium, magnesium-iron rich amphibole mineral series tremolite. The higher the iron content the greener the color.
* Jadeite: Hardness 6.5 – 7.0 Mohs, a sodium and aluminium-rich pyroxene. The gem form of the mineral is a microcrystalline interlocking crystal matrix.
Nephrite versus Jadeite
Nephrite and jadeite were used from prehistoric periods for hardstone carving. Jadeite has about the same hardness as quartz, while nephrite is somewhat softer. Both nephrite and jadeite are tough, but nephrite is tougher than jadeite. It was not until the 19th century that a French mineralogist determined that "jade" was in fact two different materials.
Some of the earliest known jade artifacts excavated from prehistoric sites are simple ornaments with bead, button, and tubular shapes. Additionally, jade was used for axe heads, knives, and other weapons, which can be delicately shaped. As metal-working technology became available, jade's beauty made it valuable for ornaments and decorative objects.
Jadeite measures between 6.5 and 7.0 Mohs hardness, and Nephrite between 5.5 and 6.0, so it can be worked with quartz or garnet sand, and polished with bamboo or ground jade.
Nephrite can be found in a creamy white form (known in China as "mutton fat" jade) as well as in a variety of green colors, whereas jadeite shows more color variations, including blue, lavender-mauve, pink, and emerald-green colors. Jadeite is rarer; documented in less than 12 places worldwide. Translucent emerald-green jadeite is the most prized variety, both today and historically.
Prehistoric and Historic China
As early as 6000 BC Dushan Jade was being mined. In the Yin Ruins of the Shang Dynasty (1600 BC to 1050 BC) in Anyang, Dushan Jade ornaments were unearthed in the tomb of the Shang kings. Jade was used to create many utilitarian and ceremonial objects, from indoor decorative items to jade burial suits. Jade was considered the "imperial gem".
From the Kingdom of Khotan, yearly tribute payments consisting of the most precious white jade were made to the Chinese Imperial court and there worked into objects of art by skilled artisans. Jade had a high status and was valued more than gold or silver. Jade became a favorite material for crafting Chinese scholars' exclusive objects, such as rests for calligraphy brushes. They also crafted mouthpieces of some opium pipes from jade because they thought that breathing through jade would give the smokers a longer life if they used such a pipe.
Jadeite, with its bright emerald-green, pink, lavender, orange and brown colors was imported from Burma to China after about 1800. The vivid green variety became known as Feicui or Kingfisher (feathers) Jade. It quickly replaced nephrite as the imperial variety of jade.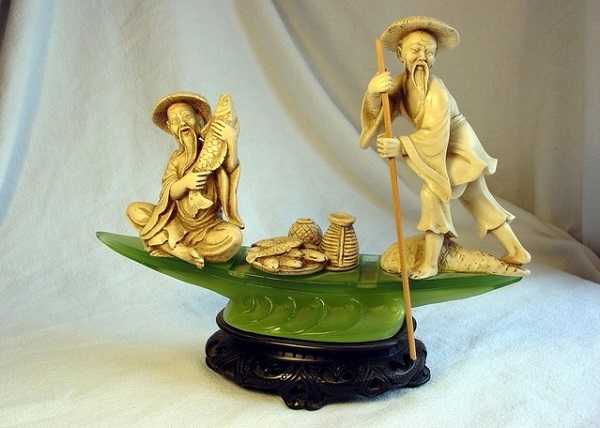 In the Chinese empire history of art, jade has had a special significance. It was comparable with gold and diamonds in the West. Jade lucky stones were used for the finest objects, cult figures, and grave furnishings for high-ranking members of the imperial family. Because of that significance, and the rising middle class in China, today some of the finest jade gemstones are made from jade when found in nuggets of "mutton fat" jade, named for its marbled white consistency, can fetch $3,000 an ounce. That's over ten times what it was worth a mere ten years ago.
Prehistoric and Historic India
The Jainist temple of Kolanpak in the Nalgonda district, Andhra Pradesh, India is home of a 5-foot high sculpture of Mahavira that is carved entirely out of jade. It is the largest sculpture made from a single jade rock in the world.