I Bought My New Home, Fingers Crossed, having No Job!
By "never follow the rules" Charles L Harmon
When I was a computer programmer, some years ago, I was in the market for a new home. My job was good, but like many others, the money often didn't last until the next payday.

But somehow I managed to buy a new home even though I didn't have a job. It wasn't easy, however. Timing was everything although I had little to do with the timing.
Although what happened in my circumstances happened years ago – many years have passed, a similar situation could happen to someone today.
My wife and I had spent quite some time looking for a new home. We had just sold our previous home. We were now living in another small temporary home while trying to buy a new home.
Our previous home was bought when I was single and didn't have a wife and family. Now things had changed, our home was too small. Besides that, I didn't like the area and the school district was not good. So I had just sold that first home hoping to qualify to buy a new larger home.
I had a Good Job compared to a Lot of People
I had a fairly good job. Sometimes being a permanent employee or a contract programmer at various companies. However, my contracts didn't necessarily last a long time. It depended on the particular company I was contracted to. I seemed to alternate between having a permanent job or taking a contract job. In either situation I was a senior programmer/analyst.
From admin: This is my story. It's long, almost a mini novel. I'm a writer, among other things. I'd like to publish your story. It definitely doesn't need to be this long. Maybe about 600 words or longer. I could have easily shortened this story to a fourth or fifth as long or less, but that's not me. Think of an incident or situation that happened to you that you consider to be good luck. Write and submit it here for publication on Bestow Good Luck. Become a published author even if you've never published a story before. I'll correct any Grammatical errors.
At the time we started looking for a new home I had a permanent job in Orange County working as a programmer for a small food workers union. After we started looking for a new home I quit my job because I got an offer for a contract job with a considerably higher salary. Right before I quit, one of my co-workers who lived in Lake Elsinore, told me of some new homes a small contractor was building.
That sounded good to me. He said the homes were high quality. They had large lots (compared to most new homes average people could afford). My wife and I had spend a lot of time checking out new homes all over the Inland Empire area (east of Los Angeles) of Southern California.
Although my salary was better than a lot of people, it still wasn't good enough to qualify for a home close to Los Angeles. The prices of homes in or close to Los Angeles were astronomical compared to most peoples salary. That meant most people couldn't qualify for a home loan. That included us.
I wanted to Buy a Home Far from Freeway Traffic
That was OK because I wanted to get as far away as practical from the heavy freeway traffic.
Driving to any large city in southern California meant some very serious traffic nightmares every day.
Let me say the nightmares were real, the worse traffic in the US had to be in the Los Angeles area, which was a very large area extending way out into distant suburbs.
From our temporary home near Fontana, we looked at new homes all the way out to Moreno Valley to the east, Santa Margarita, Lake Forest, and Anaheim in Orange County, and south to Lake Elsinore in Riverside County.
I wanted a home with a large lot since I was going to buy a new home. I hated expensive homes with little bitty lot sizes. I also wanted to have little traffic to contend with near the house.
As it turned out, the model homes in Lake Elsinore had the largest lots and most living space compared to all the other homes we had seen. Unfortunately they were the most expensive.
However, everything else was right, light traffic, small city, almost a country atmosphere where the homes would be located, and no small point, not nearly as much smog as some of the other locations we had checked.
My Spotty Work Record was Against Me
It was going to be tough to qualify for the loan, if indeed we could, but I had a new contract job, working near Anaheim, some 35 or 40 miles away if we got the house. There were three models and no homes were built yet other than the models. All were ranch style homes which I liked, but my wife preferred a two-story home.
The builder had carved out about a 55 acre scoop of land at the foothills of the Cleveland National Forest which started some 2000 feet above us a few blocks away. Each house was on about an acre plot.
Ours would be slightly bigger than that and it had a nice, but partial view of the lake at the back of the top level of our property. To top it off, it was horse property with rear access which always comes in handy especially if you had a horse.
We decided to buy a home there in Lake Elsinore some 50 or 60 miles from our current temporary home in Bloomington California near San Bernardino. I had just bought that house for us to live in while the house we were trying to buy was to be built.
My Real Estate Investor Idea was Money Saving and Ultimately Money Making
Being a real estate investor on the side, I just couldn't see living in an apartment for six months while our daughter finished out that semester in school and our house wouldn't be ready for at least 3 months. I felt I could buy a small house, we live there for 6 months, then sell that house and move to the new house.
Timing would be everything, but I didn't want to waste money living in an apartment. Besides, I wanted the experience of buying another house and the tax write-off from owning property. I bought that temporary house in Bloomington California for a "song and dance." Just that one purchase paid off all my reading about buying real estate with almost "no money down."
I had only been to Lake Elsinore once before when we took Highway 74, which goes through Lake Elsinore (and a few other small cities) and winds its way through Cleveland National Forest to San Juan Capistrano in Orange County right near the Pacific Ocean.
On my job one day I received a call from the mortgage company checking to see if I actually worked there. No problem, they wanted to talk to someone else there to verify I actually worked there.
Fine, no problem with that. Although I hated that particular company I was working at because it was like slave labor. That's because everything was always a big rush with never enough time to finish the job. Fortunately for me, it was a consulting type job and only temporary until my contract ended.
Good Job – Bad Company and it wasn't just My Opinion
I would see girls who were permanent employees coming out of job reviews crying because they got such a bad review. Upon talking to several of them it seemed like everyone I talked to had tried very hard to do their best which was difficult due to the time constraints they placed on all the employees.
I had never seen that type of situation before in all my years of working. The work there was fast and furious.
That's not something conducive to quality work, especially in programming, since mistakes are likely to happen if too much pressure to get something finished was a normal thing.
Pressure and speed was the name of the game there and I hated every minute of it. It wasn't only me, but virtually everyone I talked to had the same feeling as me, contract programmers as well as the permanent employees, including their programmers.
What really ticked me off was the corporation that owned the company we were working at made plenty of money and they treated their employees very badly. I would never buy any of their merchandise, which by the way were very expensive, exclusive products the wealthy and rich would buy.
Oh No! My Contract was Suddenly Ending
Things were going as well as could be expected considering the situation when suddenly, unexpectedly, my contract was going to end.
There was no warning, and not enough time to look for another contract or job. My mortgage loan had still not been approved and I was really worried about that.
Friday was fast approaching, I didn't have time to look for a new job, and we were hoping against hope I could get one right away or we would lose that small window of opportunity to get the home we now really wanted.
There were several other programmers whose contract was also ending, but none of those I spoke to were worried about it since they didn't have a mortgage company breathing down their back about their job or salary.
Friday came and in a few hours it would all end. I guess that was my payback for hating that job. Actually, now that I think of it, a good friend of mine had warned me about that company a few years before, but I had totally forgotten his warning.
He had warned me to never consider taking a contract there like he did. He had experienced the same thing as me, the lack of time to get projects done and very unhappy employees. I was almost ecstatic about leaving there. That was the only place I worked in my 35 year career as a programmer that I hated.
I knew our chance of getting that new home, would instantly disappear if I didn't have that job. For large loans like home loans it really doesn't look good if a person has too many jobs in a relatively short period of time and that I surely did, even though they were good jobs.
Things were Looking Pretty Bad if my Contract Ended
I had considered myself lucky to have gotten that contract job since it would probably make the difference of whether we could get a new home because of my high salary. Although I had a lot of programming experience under my belt it wasn't always easy to land good contract programming jobs when you wanted them.
Three o'clock rolled around and in another half hour I'd be leaving that job for good.
I had pretty much given up the prospect of getting my new home because I had been told the mortgage company might check one more time before they finally approved and funded the loan.
Saved by the Bell – A Last Minute Sigh of Relief
It was about 3:15. Fifteen minutes to go before I ended that job. I was sitting at my desk watching the clock and talking with one of the other programmers when my phone rang. It was the mortgage company re-verifying I was working there.
I passed the phone to another programmer like they wanted. He verified I was working there. Strange they would call me and not personnel.
I was saved by the bell and shocked and happy at the same time. Now it was the matter of a possible final verification before actually funding my loan.
If you've ever had a home loan you know it is not unusual for the mortgage company or bank to find some little thing on your credit record. You have to correct it before they will fund the loan. I had my fingers crossed at that point that it wouldn't happen with this mortgage company.
But – I was now Jobless with a Big Home Loan Pending
The next week, Monday, I went out looking for a job or programming contract. Unfortunately times were not good for contract programmers especially because the tax laws had recently changed and it effectively reduced the number of contract jobs significantly. I looked and looked, for a couple of weeks and still couldn't find a job.
We had practically given up on the house, since even if I otherwise qualified a single last call to my previous contract employer would disqualify me from getting the loan since I was no longer working there. Another week or two went by, still I hadn't found a contract.
I was pretty much forced to look for a contract job since even though I had a decent salary as a computer programmer it still was not enough to qualify for the house we were trying to buy. It cost four times what my first house 10 years earlier cost.
I Needed a High Salary Right Away to still Qualify for the Loan
I needed almost double the normal salary a typical programmer made at that time to qualify for the necessary loan. To top it off, I was putting tens of thousands of dollars downpayment because I was going to get a VA loan. The house was too expensive(above average cost for the area) for the VA(Veterans Affairs) to fund without the extra large downpayment.
We were living on borrowed time since I wasn't working. The bills were piling up. I was also a real estate investor at that time. We had several other houses we owned. All had mortgages that we wouldn't be able to pay if things didn't go our way.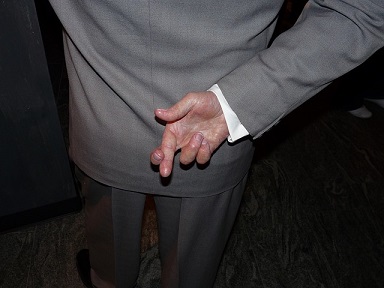 Fortunately they didn't show on my credit record.
Plus, being a real estate investor, the temporary home we were living in while the new home was being built had huge monthly payments. Talk about being financially overextended, that was my situation in a big way.
Finally Good News – Loan Approved!
Then one day, months after my contract had ended, when we least expected it, we received a call from the real estate lady. She was handling our loan and said our loan was approved and being funded. Wow! Were we relieved! I hadn't been working for quite a while. So any little thing would have blown our chances of getting that house.
Was that good luck or what? Everything just seemed to fall in place after that call. Well almost. It did take a few months to sell the home we had temporarily lived in those past six months. I also sold off another house I'd bought as an investor.
Our daughter finished her semester in high school and we moved into our new home. I was still looking for another contract programmer job, but no luck yet. Unfortunately the location of our new home was far from the much higher paying programmer jobs. Those jobs were in Los Angeles, Orange, and San Diego Counties.
But I still had my hopes up. Now San Diego area was within reasonable driving distance. Fortunately San Diego area had high programmer salaries in case I could find a job there.
Did Luck Play a Part in this?
Luck is an intangible thing. It can mean different things to different people. In this case here are a few things that made me feel very lucky to be able to buy a rather expensive house (compared to the previous home I owned).
I had a very spotty job history – it would disqualify most people from getting a home loan
My credit was not very good
I had to convince the builder and lender to give me a VA loan which neither were offering
I was juggling multiple home loans on my investment houses at the same time
Fortunately those investment home loans didn't show on my credit record
The house I was trying to buy had to have a government inspection, something the builder didn't plan on
My programming contract ended and my loan was not approved yet
I was not working, had no job when my loan was finally approved
I didn't find a job until months after we finally got the house and moved in
The temporary house I bought in Bloomington, CA sold months later at a profit large enough to recoup my new house downpayment
The children were now able to go to a school in a much better area
We still live here, but we now have a business in it – so it's an investment too
Sometimes it pays to take risky moves or big chances even if it may not turn out in your favor. For me its second nature. For my wife, it's usually a no-no.
It all Turned Out Fine in the End
As it turned out, it took me several more months to find a job. When I finally found one it was a good contract at Sony Corporation in San Diego, a relatively easy commute in those days – just an hour away by freeway. It was an amazingly easy drive to the far northern outskirts of San Diego. That was about 60 miles from our home.
Now, some 30 years later we are still living in that house. The children have all grown up and moved away. We bought another house some years ago for income. And believe it or not, I'm retired and still have the itching to buy another house or two. I know more now, so I will give it another try.
Update August/9/2017:
I am working on a way to get another house (to flip) using no money of my own. It's something new I just found out about yesterday. I'm waiting for answers from my email questions. Even if this lead turns out to be a dead end I have other options to get another house. Will Charles ever stop this real estate nonsense?
Update May 22, 2018
So far I haven't bought another house yet. I was planning on flipping a house to make a few to many thousands of dollars. However the real estate agent that was tentatively going to help me and a partner said I'd need 50% down.
That is 50 percent downpayment on the house I was to buy. That's way too much, I don't have that. Besides unless one already had lots of money that would probably eliminate most of the people that wanted to flip houses.
So that idea is on hold. I am working on two other ideas. One is online/internet marketing. The other is either real estate, buying land then putting a house or manufactured home on it. There is also an additional project I am working on, but it is very speculative, so far.
In the meantime I am taking classes related to online marketing and getting a website a lot of traffic – which equates to making more money.
For more of how I bought houses with little or "no money down" read a few writeups on my Yolky site.