Lucky Amethyst Gemstone and its Superstitious Qualities
By Twinty Karat

Gems are not only ornamental stones but they have curative powers that attribute to the increase of psychic power in humans.
Gemstones
can be worn in jewelry, as
amulets
or can be just carried loosely.
The superstitions connected with gems are very ancient and some are still prevalent today. Sometimes they are even grounded into loose powder and used as medicines.
One can be heated and oil made from it as well as being used for medicinal purposes and flavoring in a drink. Such is the range of uses for what are essentially rocks from the ground.

---
Amethyst – The Crystal of Silent Wisdom
by Adam Barralet
Published on Youtube on May 29, 2016
Amethyst is often a crystal that comes into your life early along your spiritual path. It seems to appear at that point when you start to realise there is more to life than simply trying to keep up with everyone else in the rat-race. Amethyst encourages you to slow down, to pause, and to consider what else life has to offer. It teaches you that wisdom comes when we cease talking, fall silent and listen. Amethyst helps you discover what truly makes you feel fulfilled. It guides you in overcoming unhealthy addictions or obsessions that steer you astray.

---
Gemstones are also associated with the zodiac. They are said to possess magical powers. Below is described one of these gems, amethyst, and the superstitions surrounding it.
Amethyst
Amethyst is the stone for simplicity and sincerity. It prevents one from falling in love foolishly. As with many gem stones amethyst is said to have various powers.
Amethyst is a translucent purple/lavender (sometimes streaked with white) variety of Quartz; one of the most highly prized. The name Amethyst comes from the Greek word 'amethustos', meaning 'not drunken'.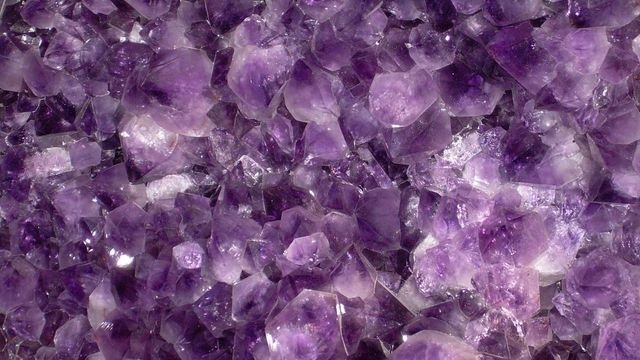 Here are some Amethyst superstitions;
Protects against nightmares, thieves, storms, hail, locusts, plagues, and infidelity.
Changes brightness when near poisoned foods.
Encourages calmness.
Cures headaches, toothache, gout, neuralgia, and nerve troubles.
Brings contentment and sincerity.
Prevents drunkenness, falling in love foolishly.
Amethyst Metaphysical Properties
Amethyst is a stone of courage and warrior-like attributes, use it to dispel anger, fear, or impatience and to strengthen spirituality and contentment. It is most powerful if used during sleep to drive away nightmares or insomnia.
It is also powerful if used in conjunction with the Third Eye (your body's natural psychic hotspot), as it enhances psychic power and awareness. Use it during any psychic rituals, intense visualizations, or to help clear the mind before meditation.
Back in ancient times people drank out of cups studded with Amethyst so that they might imbibe to excess but never to intoxication.
The gem was also believed to repress evil thoughts of passion and create an atmosphere of calm and mental peace among friends and companions.
Amethyst also guards against superfluous actions, and will therefore aid in the healing and treatment of addictions and harmful over-indulging in other things. It will also help stabilize a person's mental conditions.
Amethyst was thought to encourage celibacy. Because of that, amethyst was very important in the ornamentation of churches in the Middle Ages. Bishops still often wear amethyst rings.  Amethyst is regarded as a love charm, and as a protection against thieves.  
In Tibet, amethyst is considered to be sacred to Buddha and rosaries are often fashioned from it.  Placed under the pillow at night, amethyst is believed to produce a calm and peaceful sleep. Amethyst is given as a symbol of security, sincerity, and peace of mind.
Healing ability
Amethyst magnifies psychic abilities and right-brain activity. It strengthens immunity, while energizing and purifying the blood. Amethyst relieves headaches, improves blood sugar imbalance.
Zodiac Sign – Birthstone
Aquarius (January 21st – February 20th) and Pisces (February 21st – March 20th). Other sources only say Amethyst is the birthstone of Aquarius (Water Bearer): Jan. 20 – Feb. 18.
Wedding anniversary
Amethyst is anniversary gemstone for the 4th and 6th year of marriage.
Varieties
Oriental amethyst, or purple sapphire, is not quartz but a variety of corundum, a much harder and rarer stone. Found mostly in its purest form, Amethyst is colorless. The finest quality Amethyst is medium to medium dark in color, strong intensity, and purple, reddish purple to bluish purple in hue.  

---
Healing Crystals Guide – Amethyst
by CrystalAgeTV
Published on Youtube on Sep 3, 2013
This is our Healing Crystals Guide on Amethyst – one of the most popular crystals. Known as the master healer, amethyst is used to relieve headaches and for strengthening the immune system. A relaxing crystal that helps with stress – a must for any crystal healer or collector.

---
Heating removes the color from amethyst or changes it to the yellow of citrine. Most commercial citrine is made in this manner.
Where it's found
Amethyst is mined in Uruguay, Brazil, Sri Lanka, Canada, India, Bolivia, Siberia, and Argentina plus some African countries and Australia.