Luck from the Charm of Good Luck Amulets
An amulet is an object or a sort of charm that protects against evil, injury or bad luck. They are generally worn around the neck or hand. The concept and belief in amulets is very age old from the times of the prehistoric ages.
In other words we can say that amulets act as good luck charms which affect various aspects of our lives.
People from all age groups can use these good luck amulets.
Many archaeological sites have shown evidence of amulets and talismans present from the very ancient times. They are said to have possessed some mystical charm and power in them.
Types of Amulets
There are many types of amulets. Natural materials like wood, stone and shells were used in making amulets. Amulets are available in different sizes, shapes and colors used according to the needs and purpose of the user.
The most popular amulets are the Tibetan ones as they not only ward off evil spirits but also protect one from other physical problems like illness and diseases. They are also a safeguard against accidents.
Celtic Amulets having their origin from the Celtic region of North America have magical powers in them.
Another type is the Egyptian amulet which not only protects the living beings but also their dead ones. They have also been found inside with the mummies also.
Shapes, Sizes and Composition of Amulets
There are many varieties of amulets regarding their shapes and sizes. They are available in many forms such as geometric designs, sun, moon, stars, human body parts, rings, angels and deities and many other shapes and forms.
Metals like gold; silver and platinum are used in making amulets. Some amulets are made up of precious stones while others are made from papyrus, medicinal plants, wood, stone etc. 
Even religious symbols like the Cross or the Star of David or the Hamsa amulet worn by Muslims and Jews are all different kinds of amulets.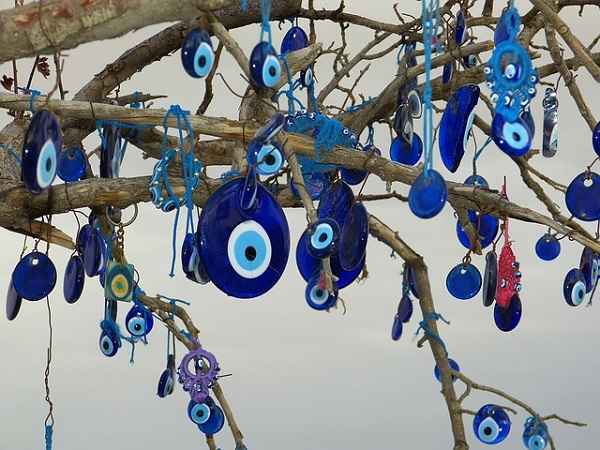 Evil-eye amulet tree
Different uses of amulets
The different kinds of amulets are used for different purposes. The Hamsa amulet protects against the evil eye. Frog amulets are used to increase fertility. Deity amulets ensure long and strength to the wearer. The heart shaped amulet is not only a symbol of love and romance but also protects the heart from diseases.
Amulets tied in the apron act as protection for the cook and the food. Protection against evil and a bringer of good fortune is the star amulet. Longevity and power comes to the wearer from beetle amulets.
Love, joy and fertility are ensured by the dragon amulets. In the olden days, soldiers used to carry bloodstones along with them to help assure safe return from battles.
The importance of amulets cannot be denied on the whole. There are believed to be 300 different types of amulets in Egypt. Amulets from different parts of the world are influenced by the culture and the religious belief of that particular location.
But if one really wants to see the magic and charm of these amulets working, you must have firm belief in them. Just believing in their powers makes them work faster and efficiently.
Copyright © BestowGoodLuck.com